Annual Report 2022
Discover the journey of FOSS United in fostering the Free and Open Source Software ecosystem in India with our 2022-23 Annual Report.
---
Free software is a matter of liberty, not price. To understand the concept, you should think of 'free' as in 'free speech,' not as in 'free beer.'
Richard Stallman
FOSS United is dedicated to promoting the use of free and open-source software and supporting open-source projects and communities in India. In 2022, we were proud to continue our mission and make a small but meaningful impact through various initiatives and projects.
Introduction
As FOSS United enters its third year of operation, we reflect on the past year here.
From conducting the second edition of the volunteer-run IndiaFOSS conference on 23rd July 2022 to supporting FOSS projects like Glific, SMC, Paperd.ink and organisations like TinkerHub, growing a small but active community involved in events and meetups, we worked tirelessly to advance our goal. This report is a reflection of our activities and a glimpse into the future of FOSS United.
The year at a glance:

The major focus for the year was on the second edition of the IndiaFOSS conference, which saw amazing community participation, providing a platform for sharing experiences, projects and reflections to not just FOSS developers, but people of diverse groups; programmers, designers, policy folks, government and NGO officials, and students amongst others.
Our vision
We aim to promote a thriving and inclusive open-source ecosystem in India where technology is accessible and freely available to anyone for the betterment of society. FOSS is for everyone.
The foundation, still in its infancy, provides grassroot support to FOSS projects and events and is slowly evolving into a community-industry collaboration with a diverse group of members and patrons.
Our goals
India is now a hub for startups, large-scale technological infrastructure, innovative software development and developer communities. However, amongst the hustle, the spirit of FOSS and hacking seems to have been overshadowed. This is evidenced by the disproportionately low number of high-quality FOSS projects originating from India in comparison to the global increase in projects over the past decade.
In the Indian context, our goals are:
To promote the spirit of hacking and tinkering.
To promote the development of quality FOSS in India.
Encourage and promote not only the adoption of FOSS in academia, the social sector, industry, and government but giving back.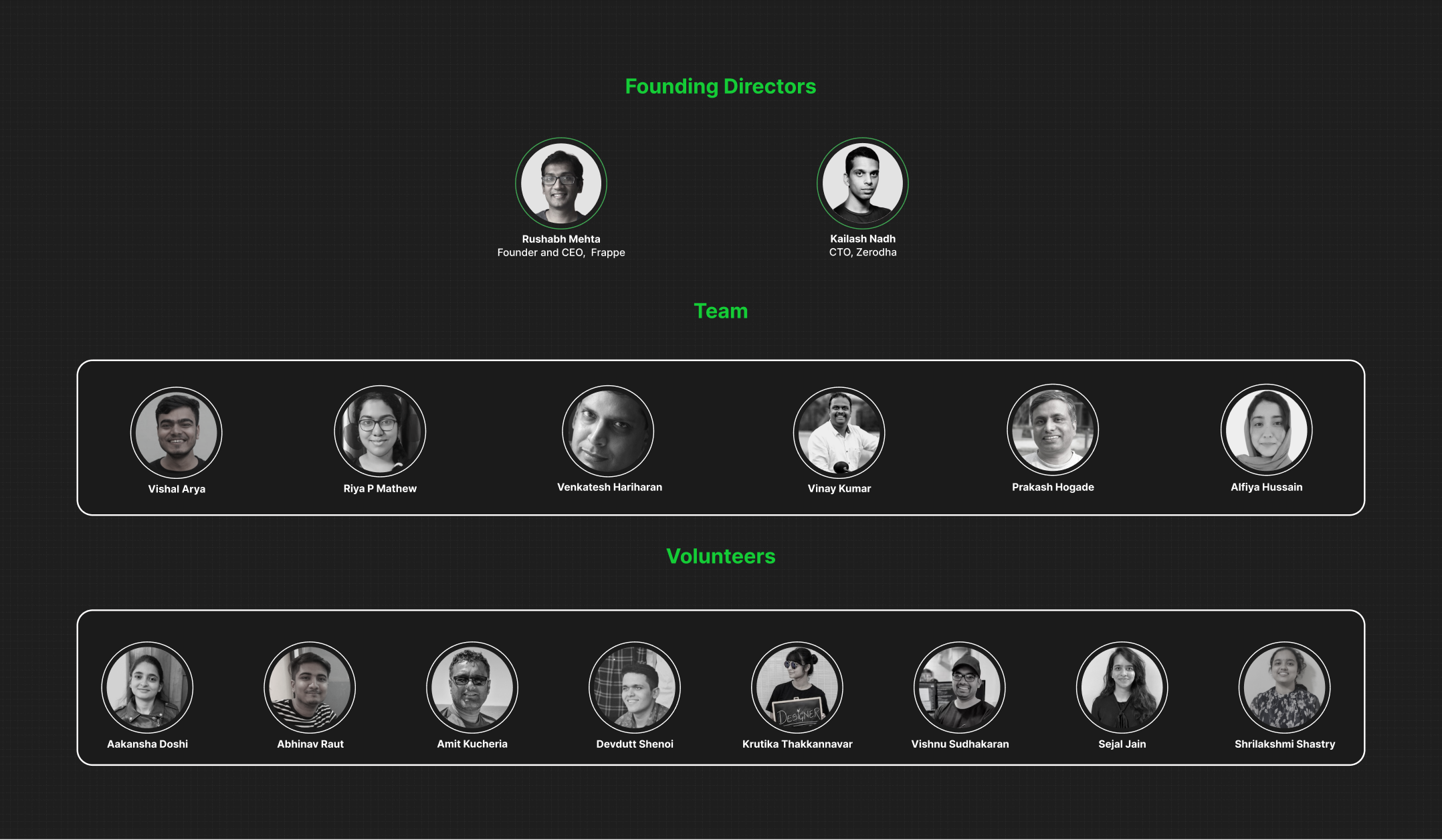 Events
Our events, including meetups, hackathons, and conferences, strive to bring together a passionate community of FOSS enthusiasts from all corners of the country.
Monthly meetups
Our monthly meet-ups are an open platform for contributors and enthusiasts to talk about their projects, demonstrate what they have built, and have open discussions around FOSS and hacking in general.
We meet in person on the second Saturday of every month in Bangalore and Delhi and it is open to everyone who wants to learn and build something around FOSS. The meetups can be tracked here.
To facilitate the creation of open-source projects, the Mumbai hackathon was hosted by FOSS United and Don Bosco Institute of Technology (DBIT), on 9th - 10th April 2022.
With around 30+ project submissions so far and a lot of time to go, it shows the vibrant and innovative spirit of the city's tech community.
Check out the winners for the 2022 edition here.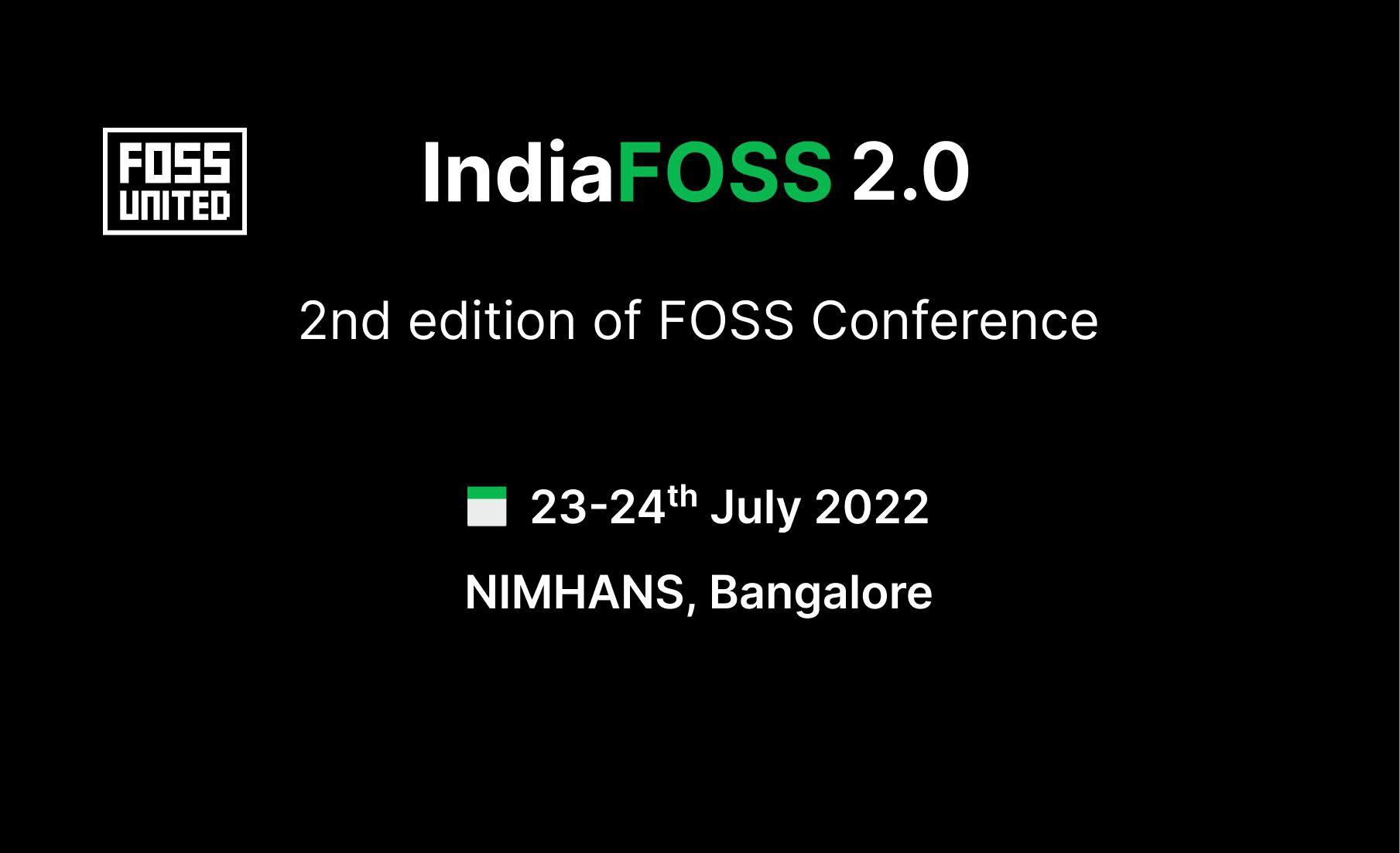 IndiaFOSS 2.0 was our flagship FOSS conference + unconference, which brought together 600+ people over two days. It was an event not just for software developers, but anyone interested in FOSS and technology in general. We also curated talks from a wide range of topics around FOSS; software, technology, hardware, policy, design, business, and education.
The conference was hosted at NIMHANS Convention Centre, Bangalore on the 23rd and 24th of July 2022.
Some of the featured talks:
A

fireside chat

with Rudra Saraswat, by

Kailash Nadh

, director at the foundation. Rudra is a 12-year-old Linux Dev who rekindled the

Ubuntu Unity

Desktop project. He shared his journey of being a hobbyist developer and open-source contributor at a young age.
Aakansha Doshi

, the maintainer of Excalidraw and now an active volunteer at the foundation talked about her experience

building end-to-end encryption at Excalidraw

, a free, virtual, open-source editor for sketching hand-drawn diagrams.
Harsh Nisar shared the use of

GIS for planning rural road investments

, wrt the network planning algorithm - Trace Maps, implemented using QGIS and FOSS libraries.
All the talks and stories shared are available on our YouTube channel.

Sponsors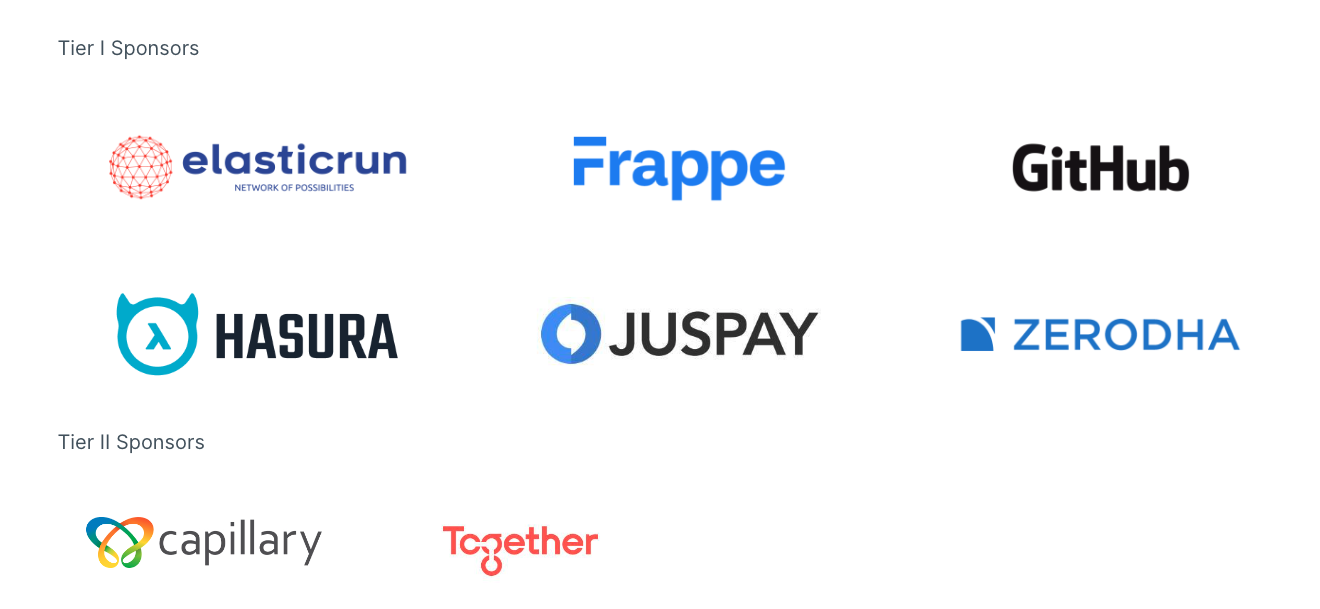 Community Partners

Blog posts on IndiaFOSS 2.0

Soon after IndiaFOSS 2.0, and seeing the probability of volunteer-run local editions, a conference management application was built using Frappe.
The app offers smooth workflows for managing all aspects of a conference - handling registrations, showcasing schedules and speakers, featuring talks, dispatching emails etc.
After the successful completion of IndiaFOSS 2.0, volunteer-run local editions of the conference were proposed, to bring an indigenous experience of FOSS across various parts of the country.
It started in Kochi, the tech hub of Kerala, God's Own Country.
On 15th Oct 2022, Govt. Model Engineering College hosted a day of open-source project sharing, discussions, networking and talks.
A 90 min Rust workshop was organised in collaboration with the Kerala Rustaceans group.

Talks centralised on

Frappe

,

Hoppscotch

,

Prav

,

Elixir

,

Ducktape

etc were made.
DelhiFOSS soon followed and was hosted at IGDTUW Auditorium, Delhi, on 29th Oct 2022, and was a community initiative by the Delhi chapter of volunteers, to bring software developers, communities and enthusiasts together. The participants could witness the FOSS product showcase, understand the latest issues and trends in open source and interact with fellow enthusiasts.
The panel discussion on Journey to FOSS had been enlightening where the panellists shared their version of experiences and indulgence with FOSS. Glific, Suricata, YugabyteDB, Zingg etc were topics for talks and discussions.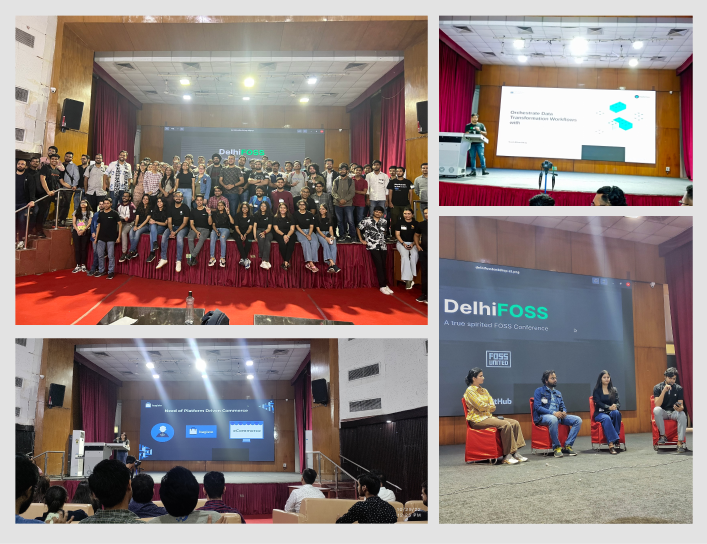 With the commitment to support the growth and development of the FOSS ecosystem, the foundation offers financial grants to people and organizations building and promoting FOSS in India. The grants are available in the following categories:
FOSS technology

FOSS education

FOSS community

FOSS

hackathons and events

.
Vinay came on board the foundation team and took responsibility for the grants program and the foundation's finances. There is also an ongoing discussion about creating a community committee for evaluating and processing grants.
Recent grants
TinkerHub Foundation

An extension to the previous grants to the TinkerHub Foundation to fund its

TinkerSpace project

, the physical hacker/community space located in Kochi, Kerala.

Parseable

Parseable is an efficient and scalable log storage and management platform. Cloud-native by design, it ensures ease of deployment and use. It is compatible with standard logging agents like FluentBit, LogStash etc.

Skytable

Skytable is a free and open-source real-time NoSQL database that aims to provide flexible data modelling at scale.

Glific

An open-source, two-way communication platform for NGOs to communicate with beneficiaries.
To apply for a grant for FOSS Projects and initiatives, click here.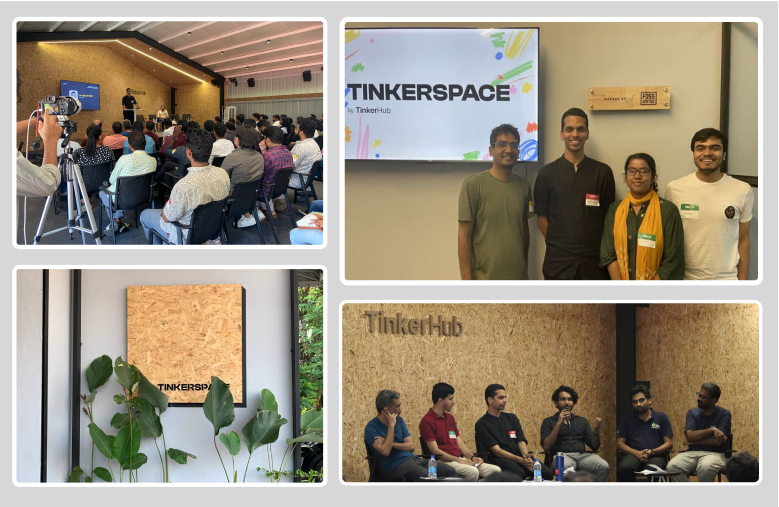 Hackathon and event grants
Through hackathon/event grants, we aim to empower students and developers to host FOSS-related events.
Find the recently funded hackathons here.
The Mon School project was initiated in 2021, as a free and open-source LMS platform where students can learn anything for free. The initial idea was that of a "Get Started" feature that enables anyone to start coding in a fun and engaging way.
The Joy of Programming course provides an exclusive journey that helps develop the fundamental requirement of mastering coding logic through creative coding and developing sketches through code.
The course engaged 6000+ students to get started with programming and formed the foundation of the Code-a-Pookalam contest hosted across Kerala in Sept 2021.
The former year saw Mon School setting a pace to expand to have more courses on the platform, which forms a good learning environment.
The following courses are currently published on the platform:
We are looking for good course creators for mon school who can work and create engaging content, that is focused on a beginner to intermediate basis.
Outreach activities
Collaborating with FOSS MEC, an introductory session on Mon School and sketch hackathon was conducted with interesting entries.
After successful cohorts in Kerala in collaboration with TinkerHub, we are planning to introduce Mon School across other states.
The FOSS India Tour 2023 by Keploy is a window where we are planning to try out the cohort programme for Joy of Programming and a sketch hackathon, to encourage students to get started with coding engagingly.
FOSS policy initiatives
A key initiative of the foundation is to encourage the FOSS community to take interest in and engage with technology policymakers. After Venkatesh Hariharan, joined as the Public Policy Consultant, the foundation has been organising policy-related discussions and has sent several letters and representations to various technology policymakers on matters of technology policy. The threads can be followed here.


FOSS for social development
Over the last couple of years, the foundation has assisted organisations in the development sector with technology to better deliver services.
Some of the projects include:
ERPNext for India Labour Line

Civic services/volunteering platform -

Samaaja

with

ReapBenefit.
We continue to nudge FOSS developers and technologists to pay attention to the technology needs in the social development sector, where technological capacity is sorely lacking. In our conversations with hundreds of social development organisations over the last many years, we have realised that very little software needs to be built from scratch in the fund and capacity-crunched social development world. Enough high-quality FOSS exists out there that can be taken and tweaked to solve a large number of recurring problems.


Tech + FOSS policy scholarship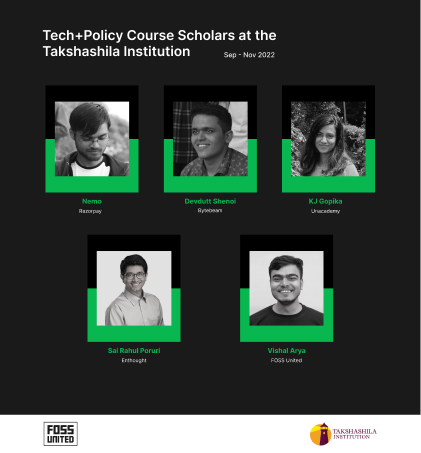 We partnered with the Takshashila Institution to offer a fully funded scholarship programme to FOSS developers and hobbyists to take the Graduate Certificate in Public Policy (Technology and Policy), a 12-week online programme offered by the Takshashila Institution. The pilot batch with five applicants ran from September to December 2022 and covered the full course fee of ₹33,000 per candidate.
The Graduate Certificate in Public Policy (Technology and Policy) is a comprehensive programme that provides participants with an in-depth understanding of the complex relationship between technology, the economy, society, and governance.
The programme covers key concepts and frameworks related to technology and policy and is designed to help students develop the expertise they need to succeed in a rapidly changing and complex landscape.
Sai Rahul Poruri from the pilot batch has started actively contributing to the policy initiatives at FOSS United.
The scholarship for the 2023 cohort is open now. For the second batch, we are sponsoring 80% (₹26,400) of the full course fee of ₹33,000 for 6 candidates. Rest 20% (₹6,600) of the fee has to be paid by the applicant. If interested:
Apply

to the upcoming cohort (starts 21st Jan 2023).

In the application form, enter FOSS UNITED in the referral name field, and

foundation@fossunited.org

in the referral e-mail field.

If you are accepted, FOSS United Foundation covers 80% (₹26,400) of the course fee for you.
FOSS United members programme
The FOSS United members' programme is designed to bring together members of the community to actively participate in the workings of the foundation. Through the members' program, we hope to gradually transform the foundation into not just an organisation that runs on community inputs, but is actively run and steered by the community.
The members (from Sept 2022) are:
Kashish Grover

Athul Cyriac Ajay

Aadhav Vignesh

Amit Kucheria

Ravi Arora

Aditya Sujith Gudimetla

Nafeen

Aniket Maurya

Sejal Jain

Prasad Khake

Anand Chitipothu
The current focus is to work on industry partnerships to solicit funds that will enable the FOSS grants program and FOSS events.
Industry partnerships and event sponsorships
After several discussions, the current proposal is for the sponsorship of our flagship events - FOSSHack and IndiaFOSS.
The only way to sponsor these events would be to become an industry member, as we aim to streamline our funding efforts and appeal to our limited set of partners. By becoming an industry partner, they will have the opportunity to support the FOSS community and contribute to our mission of advancing the use of free and open-source software in India.
Currently, we have Frappe and Zerodha as our founding patrons. The deck for the proposed industry partnership programme can be found here.
FOSS Hack is another flagship event of FOSS United, a FOSS-only countrywide hackathon.
While the first two editions ran fully online, the third edition is a hybrid one, happening online and offline simultaneously (at RV University, Bangalore). FOSS Hack invites software developers; students, professionals, or hobbyists.
Dates: 4th-5th March 2023

Cash prize worth Rs. 10L


Financial report
The audited financials for the financial year 2022, can be found here.
Community engagement
The majority of the discussions and debates happen on our

Telegram Community

and a few on the

forum

.
Our

blogs

provide insights into our various initiatives, along with thoughts and stories about FOSS in India.

Our social media handles:

Twitter

- @fossunited

Instagram

- @fossunited

LinkedIn

- company/fossunited

YouTube

- @FOSSUnited
The Mon School handles: @JoinMonSchool
What's in store for 2023?
The revamped editions of the monthly newsletter will be dispatched from February, on the second week of every month.

Vishal has moved to Delhi and is working with the growing Delhi community to start regular events after DelhiFOSS.

The 3rd edition of IndiaFOSS is on the cards, along with volunteer-run local editions and meetups happening in several states.

Plans for the launch of a college campus chapter programme are in motion.

Continue our FOSS efforts and outreach for the social development sector.

Continue our technology policy initiatives and try to foster active policy engagement from the community.

Mon.events:

We sponsored 20+ hackathons/events last year, and it was noted that most of the organizers of a hackathon don't have leverage over the track/theme they can choose due to the hosting platform. We're building mon.events to support the student community to have complete control over the conduction of their events.
Experiment!

Closing notes from Vishal and Riya
Over the past two years, I have had the privilege of working alongside a talented and dedicated team who have contributed greatly to our mission of promoting FOSS. I want to take a moment to recognize some of our volunteers who have made a significant impact: Devdutt, Kaustubh, Aakansha, Shrilakshmi, Sejal, Abhinav, Shridhar, Vishnu, Amit, Ganesha and many others.
As we look ahead to the future, I do not doubt that we will continue to make great strides in fostering and dynamizing the FOSS community in India.
~ Vishal
____________________________
When Kailash suggested publishing an annual report for 2022, it took a lot of referencing and rummaging through to get all the required pointers, the ones even from before I joined the organisation. While Vishal recounted his journey with FOSS United, preparing this report allowed me to witness a journey that involved starting many efforts from scratch that have grown gradually.
We are grateful to have made it so far, and are filled with hope for an even better 2023, as along with the community, we truly hope to build a thriving FOSS ecosystem in the country!
~ Riya
FOSS United Newsletter
Monthly digest of the latest news and updates about FOSS grants, events and mon school.
---