Journey with FOSS United - 2 years and counting
This blog shares the events done by FOSS United in the last 2 years and 9 months. It also talks about the future plans to organize events to promote and nurture FOSS in different parts of India.
---
One of the most important aspects of free and open-source software (FOSS) events is education and the creation of more FOSS, which is why FOSS United is focusing on organizing, supporting and sponsoring FOSS events in India. FOSS events are about gathering people to learn about new technologies and how to use them in their hobby projects or startups.
The FOSS community in India was not active or should I say dead? And we're trying to make it active. We feel we need more organizations/groups like FOSS United to achieve it. We kickstarted the event with the IndiaOS 2020[1] (now IndiaFOSS[2]), a conference to showcase your free and open-source software and hardware. In the last two years and 9 months, we have been organizing multiple events to promote the culture of FOSS in India.
A brief of the FOSS events organized by FOSS United:
Some stats[10]:
Events: 30

Participants: ~2905

Volunteers ( list some active volunteers): 174

Speakers - 206

Talks - 189

Projects (during FOSS Hack and Mumbai Hackathon 2022) - 208

Partnerships - 85

Sponsorships - 36
With the help of ~174 volunteers, we were able to organize 30 events. Volunteers like Devdutt, Aakansha, Kaustubh, Adithya, Krutika, Anand (he worked full-time with us as well) and many more. Sorry, I couldn't list all of them here but you can check the event's website linked above to know them.
Apart from these, there are 20+ events that are supported by FOSS United including Rust Meetup India, A talk by Richard Stallman in Bengaluru and React India 2022.
What are the next FOSS events?
Just after IndiaFOSS 2.0 in July 2022, we started planning about organizing events in different cities other than Bengaluru. The kickstart was with KochiFOSS and DelhiFOSS which were initiated by volunteers from those cities. We also went to Mumbai to onboard some volunteers to organize MumbaiFOSS.
My experience of conducting sessions on FOSS in colleges in Mumbai
We (Sayali and I) planned to conduct sessions on FOSS in Mumbai and onboard a few volunteers to Kickstart the MumbaiFOSS.
As a result of outreach foreseen by Sayali, interest grooved from two colleges.
We conducted a session was around 45 minutes for both colleges about the basics of FOSS, using FOSS, benefits of FOSS contribution in finding jobs and also touched upon popular FOSS projects. We also introduced FOSS United and the events we do and conveyed how participating and volunteering can help the students. And finally sign-up for MumbaiFOSS.
What did I observe from these sessions?
There is a prominent need for a bridge between industry and college. And nobody is building it.
Top-tier colleges have a culture where students get exposure from lots of people around them. They constantly learn and build and post-college, they are ready to join the industry. But tier-II and tier-III colleges have a scarce culture without many not having an interest to foster it.
The industry is sceptical to invest because they don't see outcomes at that point in time, while the academia and government don't understand FOSS completely.
What's Next?
It is common to organize events in those cities with a fostered dev community and at least a nascent FOSS culture but not in those cities where aren't any.
So who is going to start building it?
As I mentioned earlier, government and academia don't understand FOSS completely and the industry doesn't see any immediate gains out of it, so tends to stay out as well.
FOSS United is trying to organize and support events in such cities to help kickstart a culture. We're trying to create/re-start a FOSS ecosystem in different parts of the country.
Ending Notes
Someone from Jaipur reached out to us to help them organise a meet-up there.
We have a member from Dehradun who is also interested in doing FOSS events. What we need is your support to spread the word in your circle, wherever you are. We're happy to help you folks organise these events. By help, we mean mentoring or financial or the best way we could.
We're looking for enthusiasts who can lead monthly, or yearly events to help developers and students to participate and help them get started with the FOSS culture.
A Note to Myself
What I need to do more is to jot down all my experiences like this and share them with people so that they are aware and can contribute in whatever way possible and reach out to more people in different cities to organize the events.
Join Us
Join our Telegram Community[11] and forum[12] for discussions.
Write to us at foundation@fossunited.org if you want to organize an event in your city.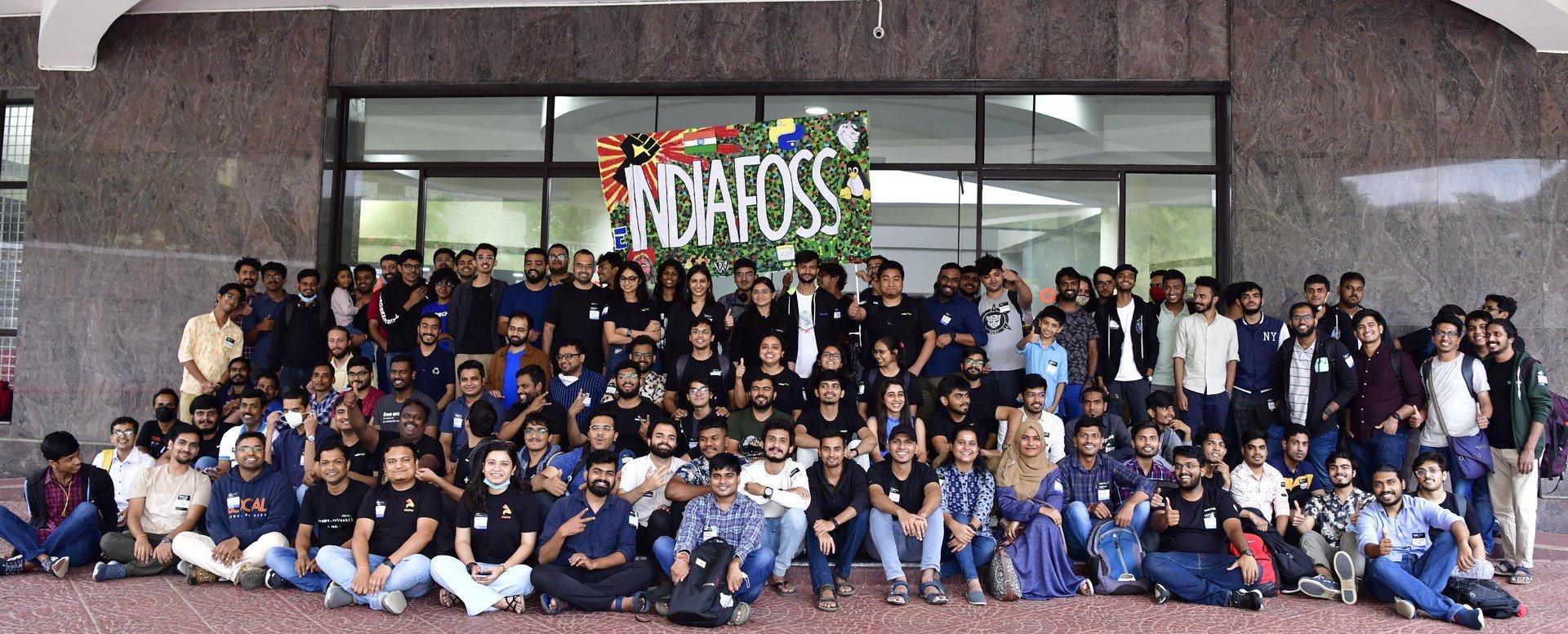 A group picture clicked after IndiaFOSS 2.0
FOSS United Newsletter
Monthly digest of the latest news and updates about FOSS grants, events and mon school.
---