Reflections from IndiaFOSS 2.0
Some of my personal recollections from IndiaFOSS 2.0 at Bangalore
---
Jannat's talk on Mon School was about to start and I stood up and looked around to find Venky in the large auditorium. It did not even take a moment, because he was looking for me as well and we immediately saw each other and he gave me a slight nod. We had planned to step out at this moment to welcome our high profile guest from the Central Government at IndiaFOSS, Mr Abhishek Singh. Mr Singh, part of India's elite government officers, the IAS, comes with a stellar career. Starting off as a bureaucrat in the state of Nagaland, he currently leads the National e-governance Division (NeGD) among the many other simultaneous positions that he holds. Just as we stepped outside, a white Innova glided through the gate and swerved just in front of us. A spectacled and suited Mr Singh casually stepped out of the car and waved to Venky. My first impression was that he seemed very down-to-earth and affable for a high powered official. Venky greeted and welcomed him to IndiaFOSS 2.0.
I have known Venky (Venkatesh Hariharan) over a few years, but only in the last few months did I get a chance to work closely with him. Starting out as a journalist right out of college in the 90s, he has worked with some of the early computer magazines in India. Later he was picked up by RedHat to work on public policy in the early 2000s as a part of an effort to push for open standards in India. Through his RedHat years and later with Google, he has built an impressive network and arguably is the person who connects most people in India's large and diverse tech ecosystem. Venky is a really smooth operator, his debonair style with his signature jet black hair makes him a character that's right out of a Quentin Tarantino film. He has the amazing ability to make himself visible and invisible at will.
Mr Singh, Venky and I pulled up three plastic chairs and sat in a less crowded part of the lobby. It was 10.30 and people were still streaming in at the registration desk. On one side Abhas had set up the hardware corner with liberated hardware and there was a stream of students flowing in. While Venky was doing small talk, I asked Mr Singh if he had heard of ERPNext. My hunch that he might have heard was confirmed when he replied in the affirmative. A few folks from the NeGD had contacted us for help a few weeks ago. The most exciting talk of the event was coming up, Kailash's chat with Rudra Saraswat, the 12-year old boy-wonder and we decided to go into the auditorium and attend the talk.
As we walked into the belly of the massive auditorium with a few hundred people already seated, Jannat's talk was still going on. "Young children in India should not need to have the burden of being the next Bill Gates or Mark Zuckerberg when they want to learn code" she was saying. I was impressed with this young engineer who had joined Frappe a couple of years ago. She comes from a very conservative family in Kurla, and here she was addressing a large gathering of people with self-assured poise and clarity. She was explaining about the Mon School project, an experiment run by FOSS United to counter the high pressure "ed-tech" craze that was going on in India. We had worked with thousands of students via the Mon School platform with the goal to teach them how to code with Anand Chitipothu's Joy of Programming course. (Fun fact: My 8-year old is doing this course sitting next to me as I write this post). We found some nice seats right in the middle of the auditorium with Venky and I sandwiching Mr Singh between us. He was lapping this up. "The government is looking for a learning management system and I wonder if this tool could help", he said.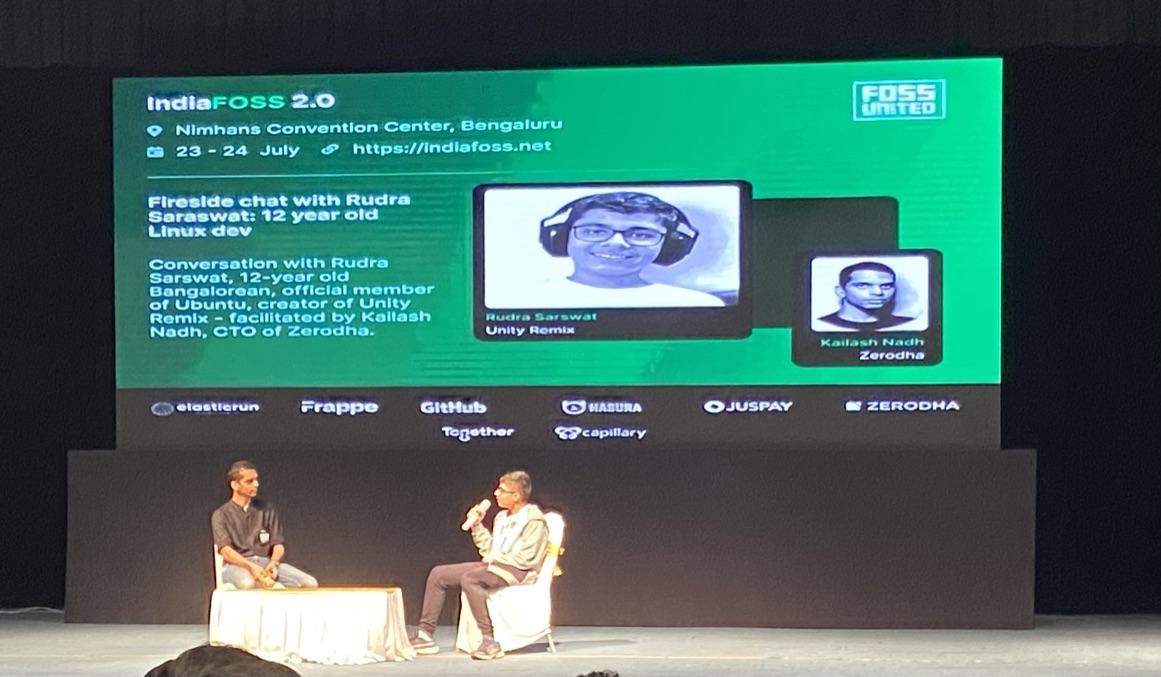 Soon the stage was taken up by Kailash and Rudra - like I mentioned earlier, Rudra is a 12-year old who got some press because he had revived the Ubuntu Unity Desktop project. Kailash had invited Rudra to the IndiaFOSS conference, and here he was, all of 12 years and the centre of attraction of hundreds of people. The atmosphere was electric and a sense of disbelief was in the air. Even Mr Singh sat upright, his eyes wide open. My own feelings swayed between scepticism and wonder. Rudra spoke like just another introverted 12 year old. His YouTube inspired accent was a bit hard to understand, but it was clear that he was not a hoax. Knowing Kailash, I was sure he had done his homework, but I still had to see it with my own eyes. One reason why I think he is genuine is that the FOSS community is a difficult place to throw wool over people's eyes. Most people are here because they are passionate about technology and it is very hard to fake anything. If anything, people are sceptical in general, and open source projects are harder to get accepted than commercial projects because the software itself is fully open. There is no "sales pitch" you can make to cover up for the lack of quality, and people are brutal about things like quality and security. Later I had a detailed chat with Rudra's mom, Parul, who seemed as perplexed as the rest of us. I shared some of my learnings running a democratic school in Mumbai, feeling that Rudra might be better off being in a more open community rather than a traditional school that might put too much pressure on him.
It was fitting that Rudra was being interviewed by Kailash, who himself started off as a young software prodigy. In his teens he released a blogging platform that powered close to half a million blogs. Not only is he a prolific software developer who has launched tons of projects, he comes across as someone with unusual intellect and care. Someone who should have been in the IITs but somehow ended being saved. Hailing from Calicut (as he likes to call it), Kailash cuts a lean and imposing figure, who is always seen wearing plain dark shirts. A self proclaimed pragmatist, he inhabits multiple worlds, finding himself at ease with free software hackers from Kerala, as well as being part of the mercenary Bangalore tech scene and the numberous non-profits he supports. After working on various projects as an independent consultant over a decade, in 2013 he met Nithin Kamath, who then ran a fledgling stock broking company, and the rest they say is history. Built on mostly free software, Zerodha today is one of the most celebrated startups in India. This has catapulted Kailash to the upper echelons of the technology industry.
Kailash is also someone who has his feet firmly on the ground. When I pitched him the idea of starting FOSS United, he not only accepted it, but soon became the driving force behind it. Almost every technology company in the world today owes its success to the contributions of thousands of software engineers who have given away their work for free. Kailash is one of those rare technology leaders who understands both sides of the story, and does more than anyone else in the industry to give back to the community. The Zerodha tech blog has made him a legend both for hackers and entrepreneurs. Over the last few years, it has been a privilege to know him and work with him.
After his chat with Rudra was over, we continued our chat with Mr Singh in the lobby. Along with Kailash, Apar Gupta, the brilliant activist lawyer who runs the Internet Freedom Foundation joined us to chat. Apar has been at the forefront of crusading for keeping the internet free for society. Without a free internet, there would be no FOSS the way it is today. The internet today drives everything from commerce to learning to entertainment. Governments were late to wake up to this rapid expansion of the internet and understand its power, and are now trying hard to regulate it. People like Apar make sure that they don't constrain it in a way that kills the thing that makes it great. Apar himself is someone who radiates charisma and energy that can disarm the most lethal opponent. "Finally, I get to meet you", said Mr Singh with a wry smile.
---
Later in the evening a few of us from Frappe who had come to Bangalore for the event, decide to walk out into the late Saturday evening. From our hotel on the fringes of Koramangala, we look for a nice place to chill and relax. For someone coming from Mumbai, Bangalore feels very upscale and posh. Every place is packed with beautiful people dressed up to impress with loud American music blaring out. Our rag-tag Frappe gang soon felt out of place and we soon head back to our hotel, ordering some hot and cold coffee. Most people in Frappe don't realise the value we create because we don't rake in big money, and coming to Bangalore makes us feel even more inadequate. The fight of outcome vs principles is a long one and I can't grudge these young folks to understand.
Aditya is one of the folks who probably understands this battle of principles more than others. On the second day, he had a talk about how and why we open sourced our only major proprietary software - Frappe Cloud. Frappe Cloud is the result of more than 3 years of work and runs our entire infrastructure with a hundred servers and thousands of sites over hundreds of containers. Working in a team where most of our software was free, Aditya's team had been the only one working on a proprietary platform. At one point, the contradiction got to him and we decided that we should open source Frappe Cloud just on principle. There was a lot of opposition within the team, but since Aditya was the architect and principal contributor, it was finally his decision to make. IndiaFOSS seemed like the perfect place to make the announcement.
The gold standard for principles in the Indian FOSS community has been set by Abhas Abhinav over the years. Abhas' energy for free software comes because he fully believes in the concept of freedom. He does not want to live in a world where there is knowledge that is kept away just because it makes commercial sense. Always dressed as an activist in a khadi kurta and with his greying beard, Abhas is instantly recognisable. Unlike many radicals, he is extremely humble and soft spoken and radiates childlike enthusiasm. Having grown up in the atmosphere of IIM Ahmedabad where his father was a professor, he is a child of the Nehruvian idea of a liberal and enlightened India. Today he runs a company that is devoted to the cause of free software. A few years ago, I visited his office and it was one of the most inspiring spaces I had visited in all of Bangalore. There were routers, computers, laptops and umteen number of hardware products that were opened up and laying all around. Not an inch of the space seemed empty. Abhas' personal office gave the feel of the hippie culture of the 70s with posters of rock music legends (Pink Floyd if I remember correctly?) and others. After his talk, I asked Abhas to talk more about his journey of living for principles in a society that is out there to seduce you with money and glamour. I could sense that it would have been a difficult one with a lot of personal sacrifices and am thankful to Abhas to share some of it. India needs more people like him and I hope his presence would inspire others to follow his path.
---
Mr Singh made a spirited speech talking about the initiatives of the government of India and how they have been using FOSS in their various projects. He was candid to answer questions from the audience about government engineers feeling inadequate to open source their code and invite criticism. Later we chatted about this and decided it would be great to bring government engineers to such events and work together on some of it. Little did I know that this was already happening. At the organiser's dinner Vishal pulled me aside to introduce me to Harsh Nisar. Harsh is a dashing young engineer working in the Ministry of Rural Affairs that runs some of the largest welfare programs in the country. Most of their work is based on FOSS tools and Harsh had come to talk about how they use GIS to deliver welfare to rural India. A graduate of the Dhirubhai Ambani Institute of Information and Communication Technology (DA-IICT), Harsh works with the government because he believes in making a difference. During our chat he said that some of their Postgres database had begun to sweat with the large volume of data and he needed some help. Kailash was the best person to help him and he immediately told him about Clickhouse, a new database system that they had been using at Zerodha. More than anything, this was the perfect community + public engagement that happens at events of this type.
I probably had another couple dozen interactions like these all throughout the event. In the end I was exhausted and overwhelmed. The small movement we had started was beginning to shape up.
---
Postscript: Before and after the event there have been intense debates about what comes first, community or code? What is more important, pragmatism or principles? These are debates that usually have no right answer, because the world we live in is so complex. If we had not had open sourced ERPNext in 2008, mostly for pragmatic reasons, none of this would have come to happen. As we moved ahead, the road started getting more and more difficult and the uncertainty even worse, but at that point, we continued to do so in principle. While pragmatism helped us get started, the principles helped us plough on when the going was tough. There is no real way to predict when the principles start paying off, and often it takes a long time. This reminds me of one of my favourite poems, Delay by Elisabeth Jennings:
The radiance of the star that leans on me
Was shining years ago. The light that now
Glitters up there my eyes may never see,
And so the time lag teases me with how
Love that loves now may not reach me until
Its first desire is spent. The star's impulse
Must wait for eyes to claim it beautiful
And love arrived may find us somewhere else.
We don't know what the outcomes of this IndiaFOSS will be and what connections people made here, but we know that on principle this is the right path. FOSS is a pay-it-forward movement and we hope some of the energy will keep flowing and multiplying.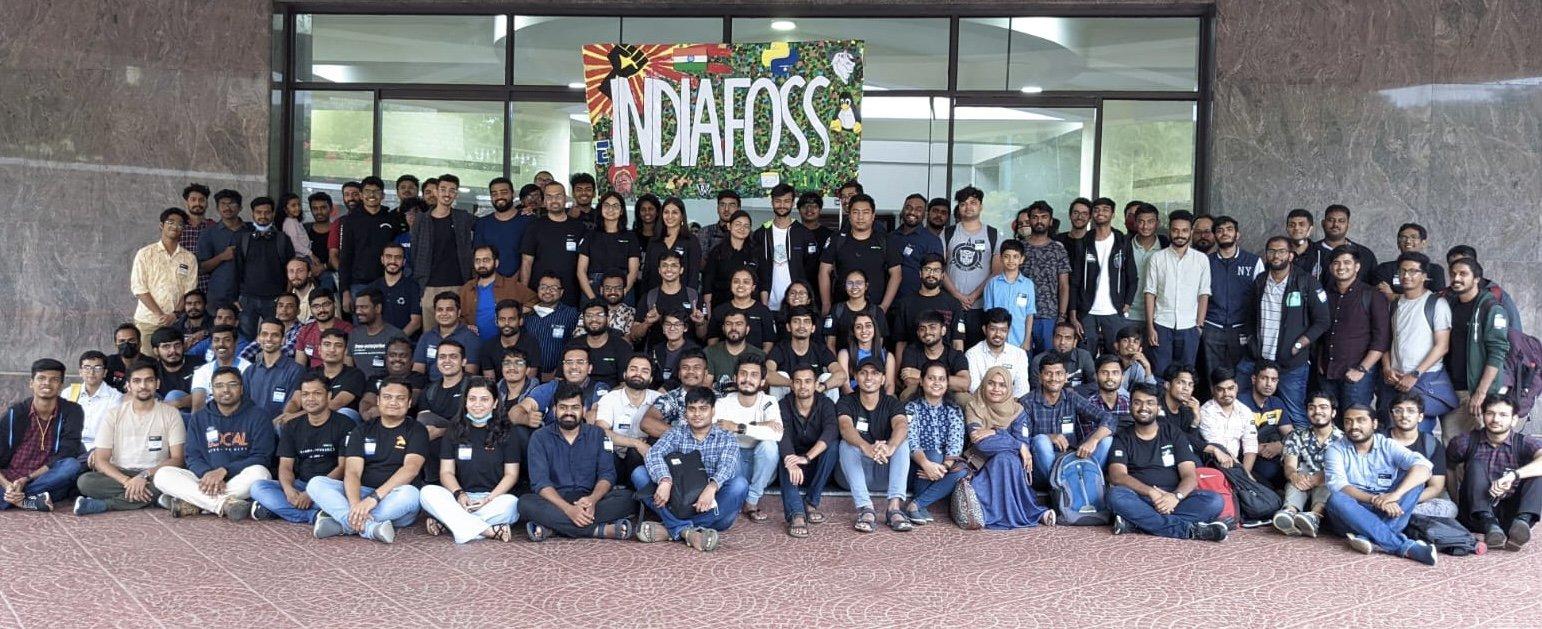 FOSS United Newsletter
Monthly digest of the latest news and updates about FOSS grants, events and mon school.
---
Rushabh is the Founder and CEO of Frappe & Director at FOSS United